Minanogawa
Traditional label in our brewery. Minanogawa has been served in the shrine in the Mt. Tsukuba (TsukubasanJinja).
Mild firmly taste.
Stella
All Junmai Daiginjou: Only 7 tanks in a year.
Our 6th brewer started brewing this new brand "Stella" which means "star" in Latin. Fruity flavor.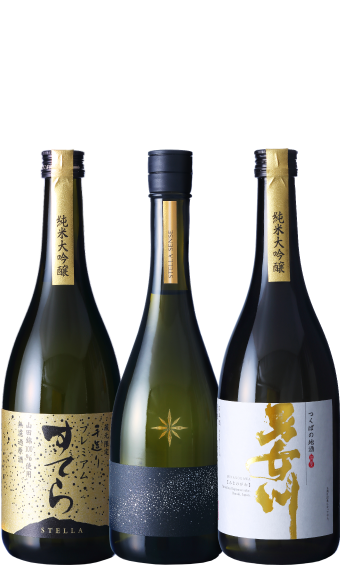 When we are brewing sake in winter while walking to the brewery in midnight below freezing temperature, the sky is always thick with blight stars.
We are so thankful to have this blessed environment and the power of Mother Nature around the brewery.
It has been 13th generation since our ancestor first settled at the foot of Mt. Tsukuba. In 1867, 6th generation of Inaba started brewing Minanogawa by using the spring water in our backyard and premier rice.
Minanogawa is a name of river flows between Mt. Tsukuba which is also sung in Ogura Hyakunin Issyu. Our sake label is named by taking the name of Minanogawa. Since its inception, Minanogawa has been served as sacred sake of Tsukuba shrine.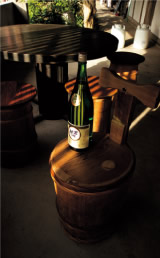 6th brewer Nobuko Inaba
One of the few female brewer in Japan. Nobuko has been brewing since 2000. She took over the family traditional brewery, which built in Edo era. Respects on the traditional handwork and her own sense in food culture mixed together, moreover, very detailed female brewing make the breweries reputation.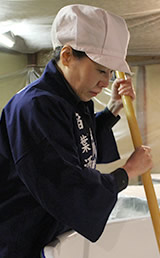 Delicious sake is always brewed by pure water. We brew with pure spring water from Mt. Tsukuba. This water moistens the throat of people visiting the brewery. The taste of water exactly reflects the taste of sake.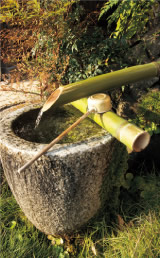 Since our brewery is very small, we do not rely on machine. We only produce our sake by hand, which is hardly seen in the recent brewing: washing big amount of rice by hands, and so on. While processing koji (rice malt), brewer checks the right temperature by hands. Moromi, (fermenting mixture of rice, koji, yeast, and water) management as well, using and trusting on human five senses and talk to moromi, listen to moromi, and taste moromi. Also as the last process, we don't squeeze moromi by machine. Moromi is hanged in the bag and dropped one by one. As a small brewery, keeps the traditional handcraft brewing.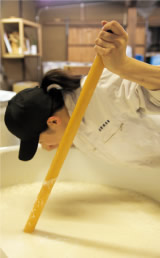 In order to maintain the highest quality, unpasteurized sake is kept in ice-cold refrigerator. The other sake is pasteurized bottle by bottle, then put in cold storage.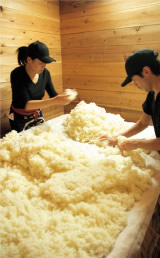 Taking advantage of the different tastes of sake by each tank. Sake is made by spiritual pure nature. You can enjoy the difference of the tastes.